SIP interconnection is still challenging today, and emerging UCaaS solutions as MS Teams put this challenge in the core of digital transformation of communication infrastructures. Despite the protocol being designed in 1996 and standardized in 1999, it's not direct to connect different vendor PBXs and softswitches. Based on Session Border Controller and other interconnection elements, Quobis has been working for 14+ years in consolidating customer architectures.
This interconnection is not only focused on managing the different flavours of SIP implementations to enable end-to-end communication, Quobis typically integrates solutions for dial-pad management, call routing/forking and call admission and other security features. Security is one of the key points in the industry today and Session Border Controllers might be used for call ciphering (including signalling and media) and fraud prevention.
Another point to consider is managing numbering and routing in the border element. This can be based on local policies, active directories, etc. Other activities include the manipulation of SIP headers to accommodate different vendor solutions and the integration with legacy protocols (H323, faxes, etc) or new ones like WebRTC, which we'll be explained later.
This approach has been valid for a number of years, managing this from the enterprise side and using the SBCs and a border element to manage the interconnection and peering with carriers.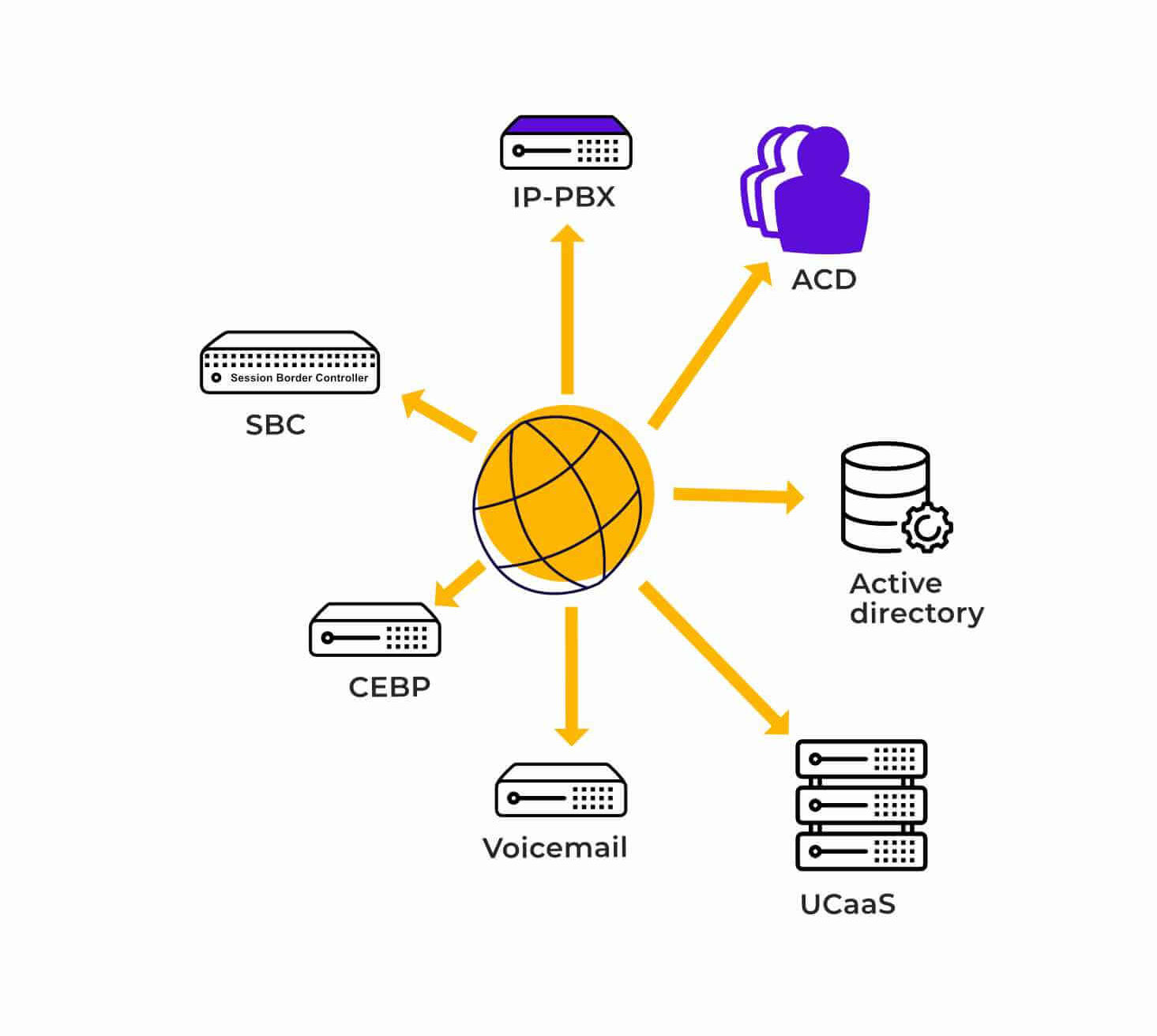 Today, the reality is changing as enterprises are adopting several cloud-based UC tools, ie. MS Teams, Webex or even our Quobis Collaborator, coexisting with legacy PBXs elements. This movement to the cloud is also valid for Sessión Border Controllers that can run over virtualized machines.  In fact, Quobis had the first reference worldwide of Oracle Communications in 2015 deploying a software-based SBC on virtual machines. 
Quobis had the first reference worldwide of Oracle Communications in 2015 deploying a software-based SBC on virtual machines.
Interconnection from the telco perspective
We have observed during the last years that telcos are adopting Session Border Controllers, in a multi-tenant way, to offer something like an "interconnection as a service" product, based on an OPEX business model.
Quobis is providing professional services for telcos roll-out, management and support, thanks to 15 years of expertise working with multiple SBC vendors and managing interconnection with 60+ PBX manufacturers. Telcos are requesting ad-hoc front-end and/or scripts to create, remove or manage trunks, policies, HMRs, user provisioning, etc. that can be exposed to corporate customers of these multi-tenant elements. In addition, customization and integration of CDRs with BSS and CCF, or reporting statistics and alarms to monitoring tools are common requirements.
The challenge of MS Teams
Microsoft Teams has gained impressive traction on the UC market. They already own the global desktop market, including Office 365 as the main tool for document collaboration. The availability of the service, easy deployment and integration with the rest of the collaboration tools.
Enterprises took this opportunity without considering their communication service providers and even their system integrators. The problem arises when these companies try to connect with the preexisting PBXs and carriers. For sure SBCs can play this role, both on the company site or as a service enabled by the telco.
Microsoft has launched a feature called "Direct Routing" that allows media traffic to be routed through the SBC with no need to use the cloud of Microsoft for this. Enterprises are using this feature to minimize latency and bandwidth requirements as the traffic is being routed directly.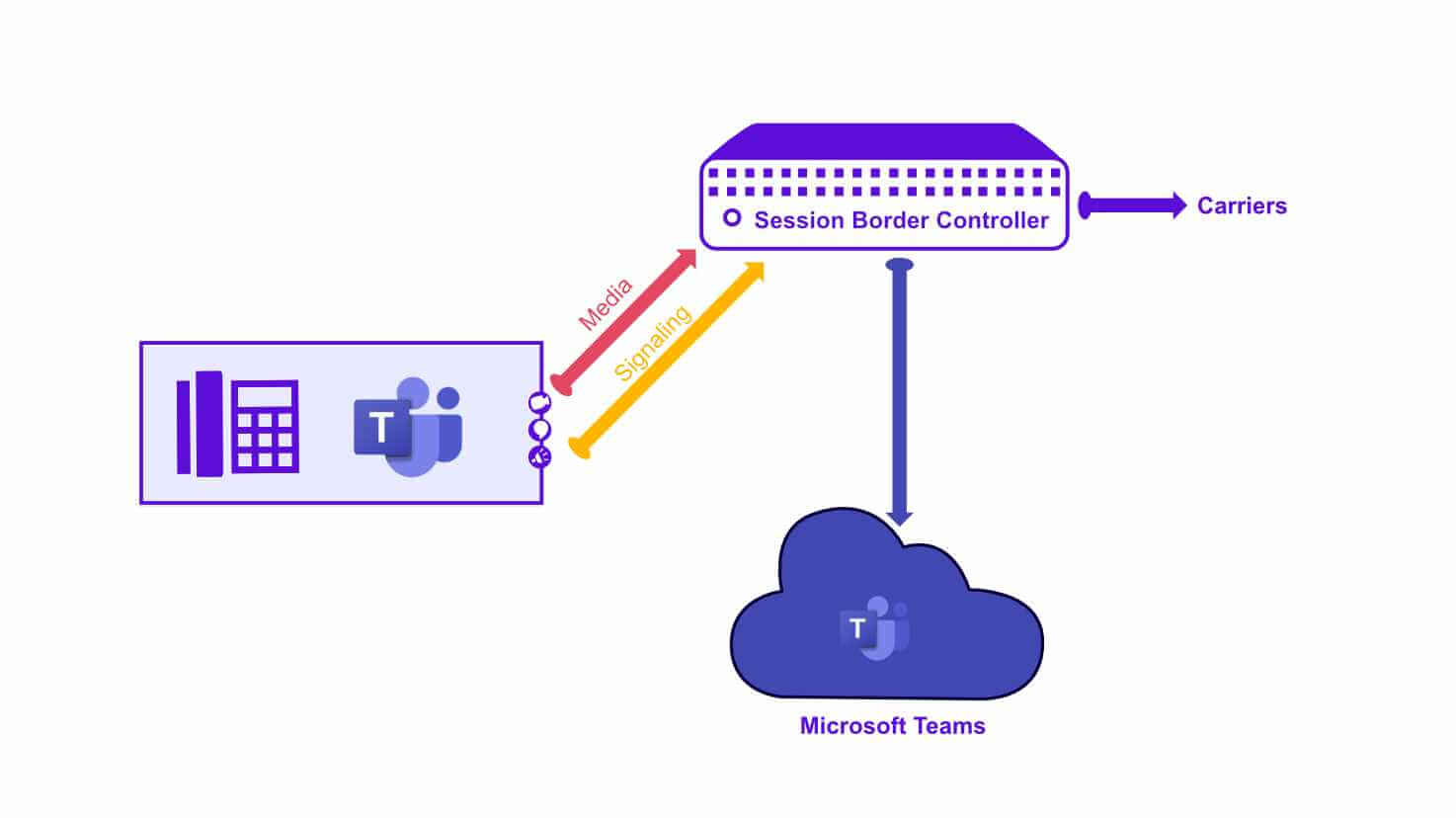 Some SBC vendor manufacturers, including Oracle and Ribbon, have been certified to support this feature and a survivable mode in case of losing connectivity with the cloud of MS Teams.
This approach is also valid for multi-tenant SBCs. Telcos and service providers can use a single instance of an SBCs to manage direct routing with MS Teams. This boosts subscription-based models and it reduces the costs associated with customer implementation to the limit. This multi-tenant SBC can be used for customer PBX co-existence.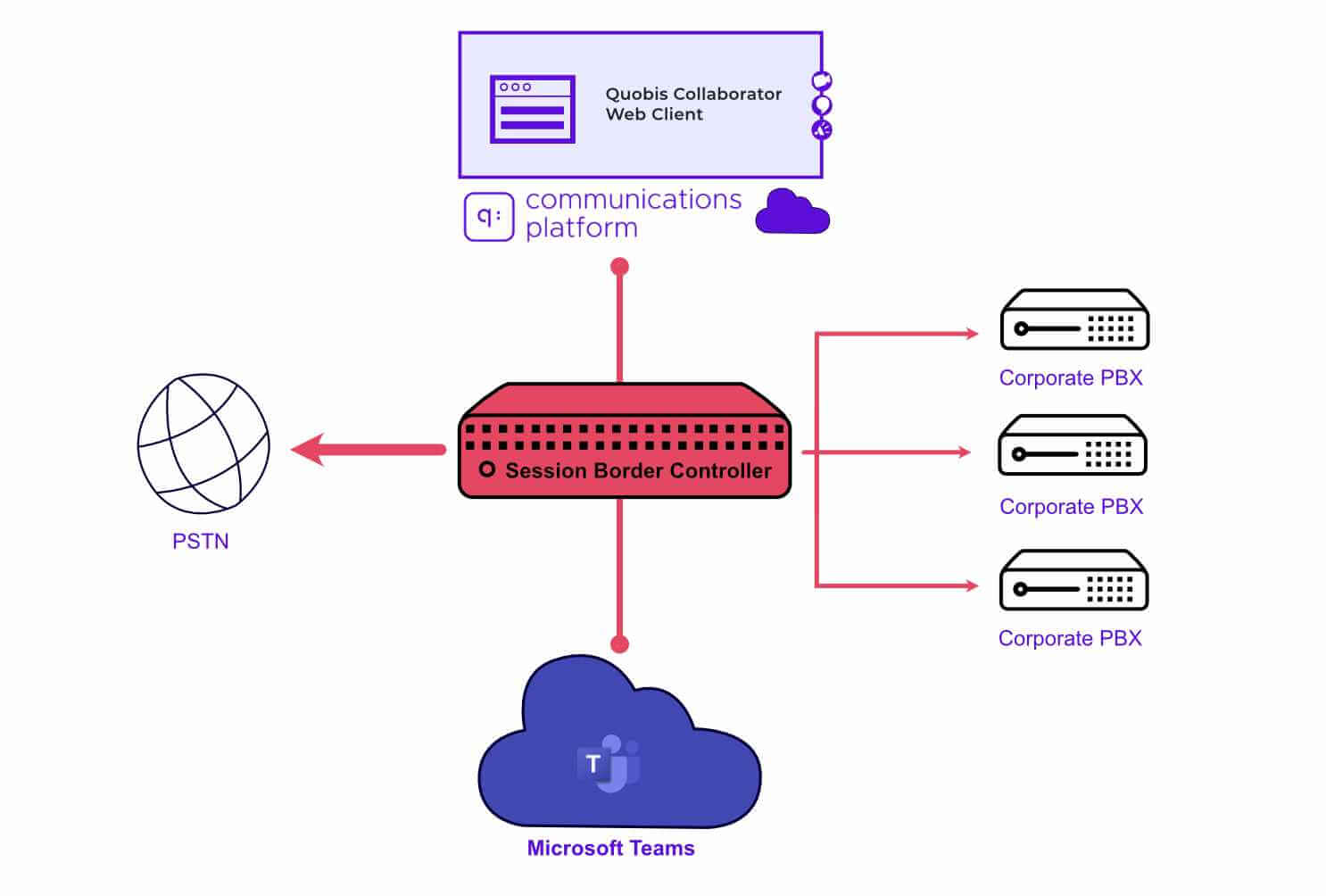 Introducing Quobis Communication Platform in the equation
Quobis Collaborator and SDKs can help to provide support for some use cases where MS Teams is not completely valid. This happens in scenarios where legal compliance (call ciphering, call recording with MiFID compliance, DTMF tones hiding, GDPR access) is critical.
In addition, Quobis Collaborator is providing more flexibility in terms of device support and user flexibility (mobility, etc). This makes sense for those desk-less users like first-line workers or field technicians that will have limited use of the communication tools and where costs are critical.
Quobis Communication Platform is ready to integrate with MS Teams so users can have both endpoints and receive calls at the same time or make seamlessly a call from Quobis Collaborator to MS Teams.