MS Teams is one of the most popular collaboration platforms today. Quobis is helping service providers and enterprises to adopt the best practices to interconnect the Microsoft Phone System with their existing infrastructure. Behind this, there are several challenges, including interworking, transcoding, call ciphering and different ways to route the traffic. Quobis has been addressing these issues for a long time, helping customers to defeat all the challenges in a short time.
Sometimes, customers using Direct Routing, the most popular way to handle signaling and media traffic with Microsoft, might experience an internet outage or problems in connectivity with the cloud of Microsoft. Internal services are fully operational, connectivity with the PSTN is working properly through the Session Border Controller (SBCs), but voice signaling traffic cannot be routed through the cloud of Microsoft.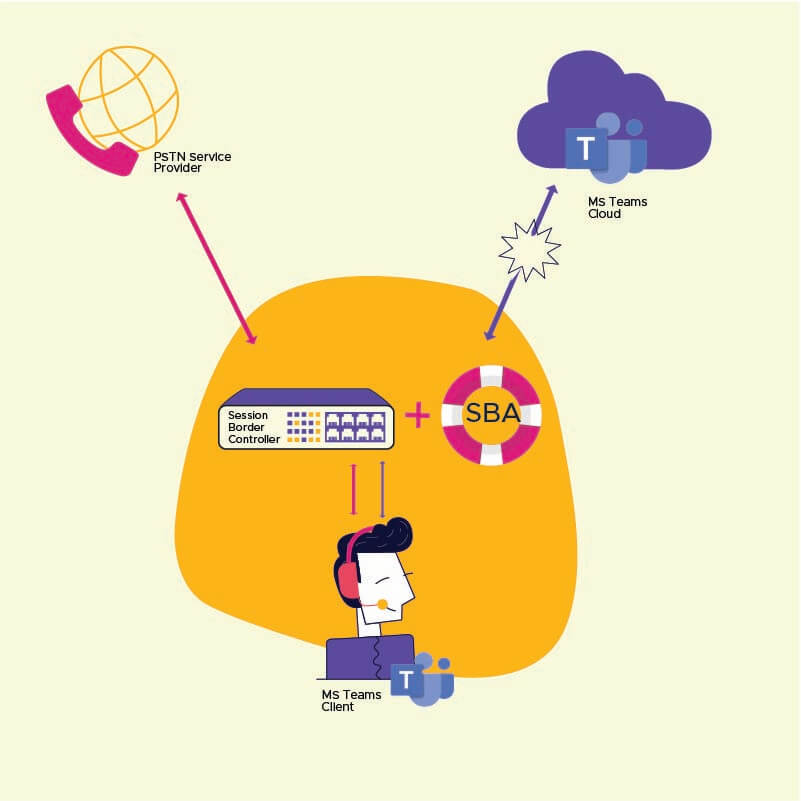 Microsoft has defined a new element called Survivable Branch Appliance (SBA) to enable users of the Microsoft Phone System to route calls through the PSTN and place external calls. Basically, the SBA is code, provided by Microsoft, that SBC vendor manufacturers may embed into their firmware or third party companies can implement as a separated physical element or virtual machine.
This is not working with the web-based client of Microsoft Teams, as the network connectivity with Microsoft is broken, but the SBA solution is operational for the Windows and macOS desktop application, Teams for Mobile and hardware-based Teams phones.
The SBA element keeps permanent connectivity with the Teams clients, SBCs and Microsoft cloud in order to accomodate automatically any connectivity outage. Clients switch automatically to the SBA, removing any dependence with the cloud of Microsoft and falls back to normal operation when the connectivity is up.
In the current version of the SBA, only some features are implemented like making and receiving PSTN calls via local SBC (with SBA capabilities) with all the media passing through it and holding and resuming PSTN calls. Despite these limitations, SBA is a common demand in those customer RFPs that want to take advantage of their existing PSTN legs in branch offices while adding an exit lane when connectivity might be compromised.
Quobis helps to identify the best SBC vendor for this, including consulting services for service implementation and enablement, low-level design, policy configuration, issue handling, E911 routing management, etc. Service providers and companies rely on Quobis to identify the best strategy with Microsoft Phone System adoption.