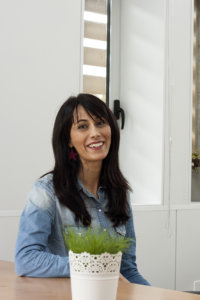 by lis.garcia
| Sandra Domínguez is now 10 years old being part of the company, as an essential part of the Quobis team. She is in charge of Administration department and she has took some time to answer this interview in recognition of her dedication.
Let's get started!!! from the beginning. It's known that sometimes in childhood kids show skills or attitudes which allow us to predict their future career will be like.
When you were a little girl, Did you know which your professional steps will be? Or Was it something from the moment you had to choose a degree?
I opted for Administration career, but first of all I was considering a number of options and I wasn't sure which follow out. Although I was aimed to follow Administration career, before I decided to take a upper cycle in Administration and Finances. It set out a clear and specific view of the field, I liked it and I was good at. It encouraged me to study Business Sciences and to continue developing my skills.
How did you get to Quobis? And which was your first impression of the company?
I was looking for a change and a professional progress. So I saw a Quobis job offer in a famous job opportunity online platform, which got me to Quobis. One of the reason, of choose that offer, was the fact of being an english offer, this attracted my attention. It made me realise that English will be necessary for job functions and I encouraged me to apply for it. In addition,Quobis was located in O Porriño, where I was looking for. Both facts were decisive to be interested in the offer.
My first contact with Quobis was in job interview in the last old office. They had just recently set up, it was a hot day in august and there weren't air conditioner. I remember having an awful hot air and thinking that if I had to work like this it would be nasty...and look!! 10 years has passed...But now with air conditioner!!!!!
About my impression of the company. I was interesting not just for Iago and Elías career before, also for being a newly launched young enterprise and it had promise a long career.
Had you worked in other companies before arrive Quobis?
Yes I had. I had had experience before to join Quobis, I was working in other companies from different sectors. I can't complain, I have always been working in my area and even though during my studies and before.
How was the moment when you receive the news that you were accepted ?
I remember that I was working in previous enterprise, and obviously, It was a tremendous joy for getting the change I was looking for and for being part of a young team.
I discover that in the beginnings Quobis wasn't as today's.
How was Quobis then?
Of course not. Quobis has developed and changed a lot since 10 years ago. At that time we were only six members, nowadays Quobis is a team of thirty two!!!!! Not just change and growth, the lines of business also has evolved to focus more on developing its own product.
How was your feeling  the first time you get into Quobis office?
I am going to use this moment, which no one is listening, to confess the first thing that caught my eye. It was that everybody said anything ( about work issues ), being side by side. If they wanted to discuss, they would send you an email. I wasn't used to that work method; nevertheless at present, it would be very difficult to organize my tasks.
Refers to laboral issue, I have to say that the first impressions were excellent, because the welcome each member gave me. I feel like part of the group easily and quickly.
How was the first few weeks in Quobis?
( You can tell me moments of pressure, when you didn't know how to solve, and how now this thing you do it with eyes closed :P)
I don't have memory of pressure moments; at the beginning, like in every change, it tooks an effort to adapt to new methods of work, to know and to understand the product, admin software, etc. In addition when soon I focused on, and with Iago and Elías help, there wasn't inconvenient.
Who was in the past part of Quobis team? And who arrive next?
When I joined Quobis there were six people: apart from Iago and Elías,  Alberto Vilas, Bea Monfort, David Prieto and Isaac Hermida were part of the team; in a short period "female reinforcements" Andrea R. Reguera and Alexia Acosta. We aren't majority but less we could occasionally go, which we called, "El café de las Machas"  (Wink, wink dedicated to the mates from that time). Later entered Ángel Pequeño, Manuel Lugilde, Alejandro Castiñeiras… nowadays they aren't part of the team, but we stayed in contact of the result of the good friendship we had.
On 10 years you had had good times and fun time, which you remember and you say " Such great moment we had"
¿Which one do you remember?
Oh my God!!! There are so many good times !!! There are numerous anecdotes, I always flaunt about it: a good working environment with a friendly atmosphere, given for every single member of the Quobis team and the close group we are. I think the new hires quickly sense it and they want to keep it. At present, to work in this atmosphere is a privilege. Always times of pressure,  work overload or bad days do better with a few laughs, jokes ( like Antón Román imitations of Gila ), and members joy.
To choose a Great Moment is difficult. If I have to make a choice, I think, I`ll opt for "Jorge rescue operation". Our mate Jorge Casal got enclosed in the toilet, because lock broken. I try to open the door kicking it and the heel of the shoes nailed in the door… it is clear that I would do whatever is required for a mate. Those, who were there, will laugh while reading, except Jorge, who even in this moment, doesn't find it funny.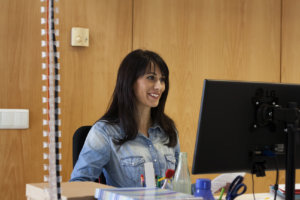 Everybody has a career situation which let us a mark, because of a bad moment but it helps them to improve. In yours 10 years in Quobis
Which was that moment/ situation you think it will be an important mark in you development?
I could say that there was some delicate moments in the company, but like in live they help us to learn about them, be better and to make us stronger.
What is the thing that you most like about Quobis and to work on it ?
It's so valued the trust the persons in charge place in us, in doing our work, and how friendly and supportive they are. The comfortable and relaxed atmosphere create a well-being work time. In addition to comradeship, mutual respect and good feeling between workmates make easily waking up every morning.  
Did you think Quobis would become what it is today?
No, I didn't. It wasn't an extremely change until you think about it and you realise it, it was a gradual change.
In the future, would you like remain part of Quobis?
Of course YES!! And I hope Quobis team will still want as a part of them.
How do you feel your 10 years dedication anniversary Quobis surprise? How do you experience it?
Buff, It was a huge surprise!!! I couldn't imagine what is going to happens. In fact, in the morning, when I got into the Quobis office, they threw me confetti and I didn't even realise what they were celebrating. Only with this I would be happy. And I didn't know what will be next. ;)
After the confetti surprise I was a little nervous, but when I see the present I got in shock. I wasn't able to react, to say a single word and to express what I was feeling. I will pay attention in my 25th anniversary ;).
It was an amazing gesture, I'm very grateful!!! I had lots of fun.
---- SPANISH VESION ----
Sandra Domínguez lleva ya 10 años formando parte de la empresa, uno de los miembros esenciales del equipo de Quobis. Ella está a cargo del departamento de Administración y ha hecho un hueco para responder a nuestras preguntas en reconocimiento a sus 10 años de dedicación.
Vamos a empezar desde el principio. Sabes que hay gente cuya carrera profesional ya se ve desde que son pequeños, por como actúan, hablan y a lo que le gusta jugar.
¿Tu cuando eras pequeña sabias hacia donde iban a ir tus pasos en el mundo profesional? ¿O fue algo más del momento, de tener que escoger una carrera y a ver como se te daba?
Pues barajaba varias opciones aunque no tenía muy claro por cual decantarme. Finalmente opté por la rama de Administración aunque antes de hacer la carrera elegí cursar el Ciclo Superior de Administración y Finanzas, que me dió una visión clara y específica de la materia, viendo que me gustaba y no se me daba mal, fue cuando entonces me animé a continuar mi formación haciendo la carrera de Ciencias Empresariales.
¿Cómo llegaste hasta Quobis?¿Y Cuál fue tu primera impresión de la empresa?
Buscando un cambio y mejora profesional llegué a Quobis a través de un anuncio publicado en un conocido portal de ofertas de empleo. Me llamó la atención el hecho de que la oferta estuviera en inglés, lo que me hizo deducir que ese idioma era necesario para el puesto de trabajo y me resultó atractivo ese punto; además la empresa estaba ubicada en O Porriño, dentro de la zona de preferencia que buscaba. Esos dos factores fueron los que hicieron que no dudara en inscribirme en ella.
El primer contacto con Quobis fue en la entrevista en la anterior oficina, estaban todavía recién instalados, era el mes de agosto y el aire acondicionado todavía estaba sin instalar, recuerdo pasar un calor horroroso y pensar que si tuviera que trabajar allí tenia que ser un horrible con ese calor.... y fíjate! 10 años ya...eso si con aire acondicionado eh!
Respecto a la impresión sobre la empresa, me resultó no solo interesante por la trayectoria anterior de Iago y Elías, sino también muy positiva por ser una empresa recién fundada por dos jóvenes emprendedores y que prometía una larga trayectoria..
¿Habías trabajado en otra empresa antes de llegar a Quobis?
Si, antes de llegar a Quobis ya tenía experiencia en otras empresas de diferentes sectores . En este sentido no me puedo quejar siempre he trabajado, y además en mi rama, ya desde antes de haber finalizado la carrera.
¿Cómo te llegó la noticia de que estabas dentro de Quobis?
(Cuéntame el momento en el que te avisaron, que estabas haciendo y como te sentiste)
Recuerdo que estaba en trabajando en la anterior empresa, y como no, me llevé una alegría tremenda por haber conseguido el cambio que buscaba, y además poder formar parte de un equipo de personas jóvenes.
Por lo que me he enterado los inicios de Quobis no eran nada similar a lo que Quobis es ahora
¿Cómo era Quobis entonces?
Claro que no, en 10 años Quobis ha evolucionado y cambiado mucho. Por aquel entonces en la empresa éramos solamente siete personas, hoy en día formamos parte de Quobis treinta y dos!!! No sólo ha habido cambio y crecimiento en este sentido, sino que la línea de negocio desde hace 10 años ha evolucionado focalizándose más en el desarrollo de producto propio.
¿Cómo fue tu sensación la primera vez que entraste en Quobis?
Pues voy a aprovechar ahora que no nos escucha nadie para confesar que al principio lo que más me llamó la atención fué el hecho de que, aún estando unos al lado de otros, la gente no te hablaba (por temas de trabajo me refiero), te enviaban un mail o te lo comentaban por chat, para mí aquello era extrañísimo, no estaba acostumbrada a ese método de trabajo; hoy en día, sin embargo me resultaría imposible organizar las tareas y carga de trabajo de otro modo.
Saliendo del tema laboral propiamente dicho también he de decir que las primeras sensaciones percibidas fueron muy buenas gracias a la excelente acogida por parte de todos los compañeros de oficina en ese momento y rápido me sentí integrada en el grupo sin ningún problema.
¿Cómo fueron tus primeras semanas en Quobis?
No tengo recuerdo de momentos de tensión; al principio, como ante todos los cambios, cuesta adaptarse a las nuevas metodologías de trabajo, conocer y entender el producto de la empresa, los programas de gestión, etc, pero pronto se centra uno, y con ayuda de Iago y Elias en los momentos que necesité no hubo ningún inconveniente.
¿Quienes formaban de aquella el equipo de Quobis?¿Y quién fue llegando después?
(Las otras dos personas que entraron después, tu impresión hacia ellas)
Como ya he comentado antes, cuando entré en Quobis solamente eran seis personas: Además de Iago y Elías formaban parte del equipo Alberto Vilas, Bea Monfort, David Prieto e Isaac Hermida; al poco tiempo llegaron "refuerzos femeninos" con Andrea R. Reguera y Alexia Acosta, no éramos mayoría chicas, pero al menos nos permitiamos ir, a lo que llamabamos , al café de "machas" de cuando en vez. (Guiño, guiño dedicado a los compis de ese entonces). Mas tarde entraron Ángel Pequeño, Manuel Lugilde, Alejandro Castiñeiras..... hoy en día ninguno forma ya parte del equipo, aunque continuamos estando en contacto, pienso que es reflejo de la buena relación que había y que continúa habiendo entre todos los compañeros.
Tras 10 años habrás tenido momentos en los que te habrás sentido muy acogida, te lo habrás pasado muy bien y que hacen que hoy te acuerdes de ellos y digas
"
Que momentazos" ¿Cuales son?
(Si puedes describirlos un poco: como pasaron y que ocurrió, mejor)
Madre míía!!! Y tantos buenos momento que hay!!! Anécdotas hay muchísimas, es algo de lo que siempre presumo: el buen ambiente, y compañerismo que reina entre todos los compañeros y que pienso que cuando alguien se incorpora, rápido lo percibe por lo que se mantiene. Trabajar en un ambiente así desde luego es un privilegio. Los momentos de tensión, sobrecarga de trabajo o días "menos buenos", con unas buenas risas, un chiste (como los de Antón Román imitando a Gila), y la alegría de los compañeros se llevan muchísimo mejor.
Elegir un momentazo se hace complicado, pero creo que me quedaría con la "Operación rescate" de Jorge Casal, cuando se quedó encerrado en el cuarto de baño y que en un intento de abrir la puerta de una patada se me quedó el zapato clavado por el tacón en la puerta ….queda demostrado con esto que por un compañero, lo que haga falta!!! Sólo los que fueron testigos se reirán al leer esto, excepto Jorge que estando en ese momento todavía encerrado no le encontraba la gracia a tanta carcajada.
Todos tenemos un momento en nuestra carrera profesional que nos marcará, porque lo pasamos muy mal, pero que nos sirvió para mejorar. En los 10 años que llevas en Quobis
¿Cual fue ese momento/situación, que aún recuerdas ahora, y que crees que te marcó en tu evolución?
Puedo decir que sí hubo momentos delicados en la empresa, pero como todos ellos en la vida sirven para aprender de ellos, mejorar y hacernos más fuerte.
¿Qué es lo que más te gusta de Quobis y trabajar en él?
Se valora mucho la confianza que depositan los responsables en cada uno de nosotros para desempeñar nuestro trabajo; así como el trato cercano de compañero a compañero que recibimos de ellos. Esto crea un ambiente muy agradable y distendido que genera bienestar.
Y como no, el ambiente general de la oficina, reina el compañerismo y respeto entre todos, además del buen feeling que hay hace que madrugar sea más llevadero.
¿Te imaginabas que Quobis llegaría a ser lo que es hoy?
No, pero al ser algo gradual no fue un cambio radical no se es consciente del cambio hasta que te paras a pensar y lo percibes.
¿Te ves, en un futuro, como parte del equipo Quobis?
Pues claro que sí, espero que el equipo de Quobis también me siga queriendo como parte de el
¿Cómo te sentiste cuando Quobis te dió la sorpresa por tus 10 años de dedicación?¿Cómo lo viviste?
Buuuf, fue un sorpresón! ni por asomo me lo imaginaba, de hecho cuando entré en la oficina por la mañana y soltaron el confeti ni siquiera me daba cuenta que estaba ocurriendo...ya con eso me quedé feliz! Y aún no sabía que aún me quedaba.
Yo ya estaba un poquito nerviosa por la sorpresa del confeti, pero cuando ví el regalo entré ya en un estado de shock que me bloqueó tanto que perdí la capacidad de reacción, no exterioricé para nada la emoción que estaba sintiendo. Para el 25 aniversario estaré atenta ;)
FueS un detallazo increíble, super agradecida!! Además me lo pasé genial.