Partners and end customer ask very often about the different possibilities they have to integration WebRTC-based click to call buttons with their existing architecture. Most of them are willing to use the current platforms in order optimise agents time and existing metrics. And this is possible the
WebRTC call is adapted to SIP so the legacy ACD can route the voice call to an available agent. This approach has the following benefits:
Agents can answer calls of other services, WebRTC-based calls are not more than a new channel. No dedicated agents for WebRTC
ACD, route policies, statistics and KPI are preserved !!
Reduced cost, no adaptation problems.
While keeping the voice call via the legacy platform, video and collaboration (screen sharing, etc) can be routed from browser to browser, adding multimedia capabilities to agents really fast. Adapted this to Sippo, we could say:
A SIP trunk is setup between Sippo and the PBX for voice only

Voice is sent from Sippo to the PBX, that routes them to an available agent

Video is sent from Sippo to the agent's browser

Agents use PBXs softphone for voice only, and Sippo WebCollaborator for video and collaboration

Call correlation is done via and ID sent on the SIP headers and/or shown to the customer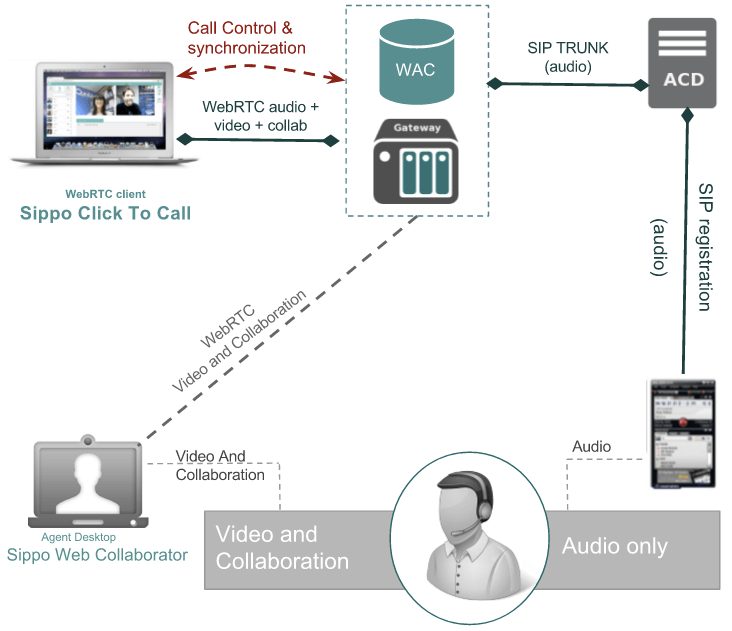 As mentioned, calls can be tracked on the legacy PBX as any other call and this is a easy way to add video to a legacy contact center platform that is only supporting voice. Another possibility is the
integration via APIs
, in case the existing ACD is exposing methods to manage agents. If the contact-center PBX is able to expose an API to query and set the agent status the integration is possible keeping the voice in the browser of the agent:
Media flows from the customer browser to the agent browser

PBX is only used for querying agent's availability, without SIP integration

Agents use Sippo Web Collaborator for audio, video and collaboration.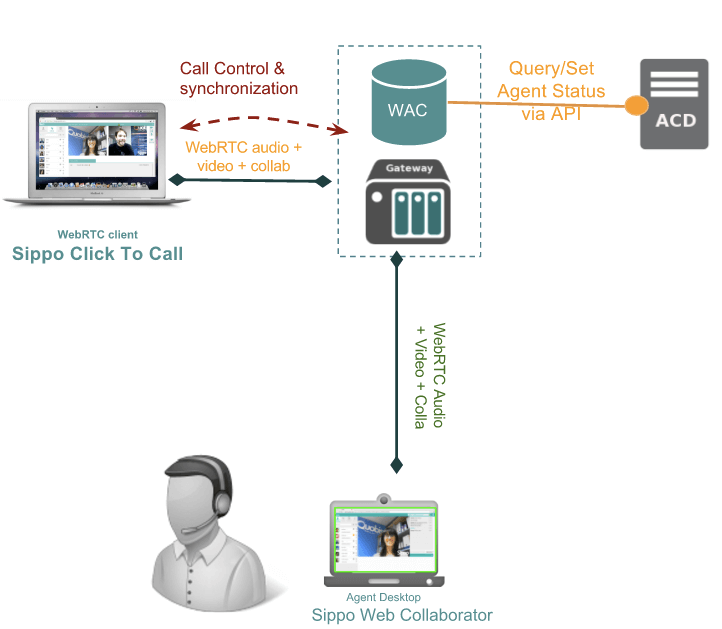 In this case, no capacity increase or new licenses are required on the legacy PBX and agents can be shared between this service and existing ones (blended). We've found some scenarios where the contact center platform 
supports VP8 codec for video
, so WebRTC is interesting for them as this represents a way to take advantage of the existing features of the platform (Sippo Click to Call enables end customers with voice/video capabilities, bringing new calls to the call center). The following scenario based on Sippo can be deployed:
A SIP trunk is setup between Sippo and the PBX for voice and video

Calls are sent from Sippo to the PBX, that routes them to an available agent

Agents use their existing video softphone for audio and video, while using Sippo for collaboration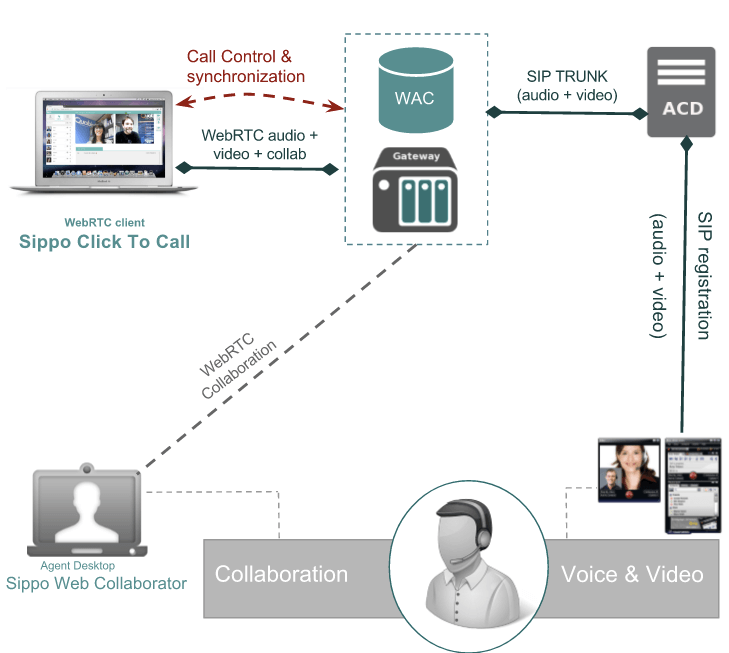 Despite video calls are managed from the PBX as any other call,  Sippo Web Collaborator can provide some advanced collaboration tools (screen sharing, shared forms, selfie, file transfer, etc), so is also possible to use this solution in these customers. There is a final scenario where the contact center platform may 
support VP8 video and also SIP registration for agents.
< In this case we can leverage Sippo Web Collaborator as the contact center tool:
A SIP trunk is setup between Sippo and the PBX for voice and video

Agents SIP-register into the PBX

Calls are sent from Sippo to the PBX, that routes them to an available agent

Agents use Sippo Web Collaborator for voice, video and collaboration

Call correlation is done via and ID sent on the SIP headers and/or shown to the customer