SECOND PART OF THE POST
Click-to-call or Web-chats as a service
The objective of a click-to-call service is to provide a button to make calls just by clicking on it from corporate websites. Calls can be routed to the IPBX of the customer or to a third-party contact center, which may be offered as a service by the telecom operator. For non-WebRTC enabled browsers a click to call back solution could be added, where end users should introduce some personal information (mainly their phone number) to force a call from the enterprise's premises or from the contact center of the service provider. Some context about the call can be captured (IP address, ID information, webbrowser used, etc). Another possibility are just chats. People associate WebRTC with audio or video conferencing, but other collaboration methods could play a role in telecom opportunities. This is the case of web chat, because text messaging was one of the leaders in GSM services (SMS), and OTT services (like Whatsapp). The possibility to insert a webchat with no installation on any device could be a complement for the existing portfolio of the telco and open up new possibilities to generate incomes. For instance, a webchat in set top boxes to discuss a TV program with other viewers will help to retain users and improve the results of the ads.
Exploiting the click-to-call market opportunity: yellow pages
A possibility for communication services providers to exploit WebRTC opportunity may be yellow pages. Telcos that have a yellow pages services are offering online a local directory with search tools to find relevant information (address, telephone number, etc.) of companies. Their business model consist in promoting those companies that pay a fee, so they appear more frequently in the search engine. WebRTC opens the possibility to add a click-to-call button instead of the telephone number and for the customer that is announcing the services online to pay per incoming call.
Multiconferencing solution for WebRTC
For those companies that do not own a conferencing system, it is possible to use a native WebRTC MCU that makes it possible to establish multi-party videoconferences from web browsers. This solution could be offered as a service by telecom operators. Through a web link users will be able to join a video room in a multi-tenant web server that can help to manage voice and video. Special features like permission control, attendance control, screen sharing, doc sharing, polls, etc. could be implemented for corporate users. Another possibility is extending this services to residential users The idea behind this is to create a web link that will connect end users to a video-room directly. This video-room is managed from the telcos hosted web server and can include different channels or the possibility to create ad-hoc or permanent rooms. End users will only need to select the room they are going to join by clicking on a button with access to the contents (voice, vídeo, chats etc.) of the rest of the attendees. This solution will not include corporate features like presence, contact lists, file transfer or screen sharing but could be enough for smart companies and residential users, who can access from any device. Telcos can generate incomes from the use of this platform. It is important to mention that WebTV or Set Top Boxes would be good enablers to make this service a success.
Improve contact center experience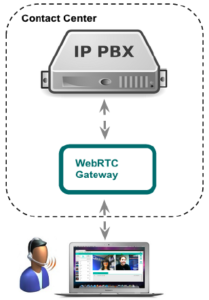 Customer care services of company and contact centers or outsourcers are willing to allow remote agents to connect to their platform from home, but the use of different devices is a stopper (i.e. VPN, home firewalls, etc.). Agents using a WebRTC application can access from any device with no need to install or update anything. The key benefits are providing mobility and flexibility to contact center's agents and try to reduce expenses in devices, license and operation. From the point of view of the telco or the service provider, this might be offered as a service, helping their corporate clients to access to new tools with no cost in terms of infrastructure. In addition, WebRTC may represent an opportunity to add video or instant messaging for those contact center platforms that are not supporting this feature, avoiding huge cost on licenses of their legacy platforms.
Webclients for OTT services
These days some telcos have adopted an Over-The-Top strategy to create online services (like Telefonica's TuME, Comoyo of Telenor, etc), as a way to compete with online companies with real time communication services. WebRTC could help to implement this OTT service thanks to its capacity to work on different platforms and devices. People are not used to identifying an OTT with a browser, as all of them have been defined based on ad-hoc mobile applications, but WebRTC could help to extend services to the web. Tablets, netbooks and laptops are going to be the next adopters of OTT services so WebRTC could be the best option and a tier-1 telco can benefit of the end-toend control of the network capacities to bring a better experience to end users. As we mentioned before, identity could be managed in different ways, so the integrity and robustness of the communication should be guaranteed.