Vigo, Spain, March 13th, 2016. Quobis, the leader in Web-based real-time communications for enterprises and service providers, today announced a new release of Sippo WebRTC Application Controller and its associated applications.
This version of Sippo WebRTC Application Controller takes a new big step in order to provide advanced contact center and customer care features:
recording
support,
form sharing
and retrieval,
multi-conference
support, third party call IDs, advanced robustness tests and a complete review of the WAC web interface. But the WAC is still a multi-purpose tool, so meetings and collaborative actions are improved, enabling new use cases (we will announce amazing references and use cases soon. stay tuned!). Examples of collaborative use cases are
group chat
, whiteboard with image sharing or a REST interface for scheduling
meetings.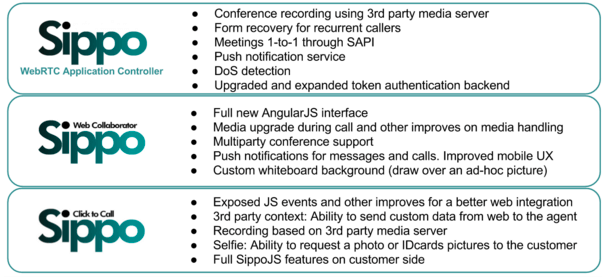 Ask your Quobis' representative to get more information about these new features.
In addition, Quobis is announcing
new price lists
of Sippo Web Collaborator and Sippo Click to Call based on monthly fees and number of concurrent calls or subscription models.
Additional Resources
For more information please visit
our website
or send an email to
yudani.riobo@quobis.com
About Quobis
Quobis is a leading european company in the delivery of carrier-class unified communication solutions with a special focus on security, interconnection and identity management for service providers and enterprises. Quobis is headquartered in Vigo (Spain) with partners throughout the world. . QUOBIS is well-known as one of the leaders in the standardization and deployment of WebRTC technology after being involved in the industry-firsts implementations and Proof of Concepts in more than 30 countries. More information can be found online at
quobis.com
.