by 
iago.soto
 | Traditionally, real time communications had a social and strong verbal character. In the case of business communication, it was used to exchange information that sometimes needed to be sent after the conversation (like in the case of sending an email with notes or follow-up after a call). This means that communication domains and the context were mostly separated. With the introduction of WebRTC technology, it's possible to combine communication and contextual information in the same channel. For instance, in the case of a public commercial website, now you can add a mechanism to allow users to connect with your customer care services, with no need to use other device. This means that instead of separated channels for information and communication, both channels are now provided simultaneously. Communication tools like phone calls might be combined with additional information about the context (e.g. a certain topic or project name that is currently discussed) or group information (e.g. information that the caller belongs to the family or to a certain company). An example of this is the initiative of Vodafone called Call+, based on an RCS framework and VoLTE. This service enables the possibility to share images, data, maps or even videos in real time during a live call. We can define the objective of the call before calling, helping the callee to identify the importance before answering. Another key-point is that this solution records the voice and stores all the data shared, so this can be stored and played later. This is not based on WebRTC but this use case can be the enabler to extend Call+ services to other devices (as Call+ is available only for smartphones). In the pure WebRTC domain, context information is critical in different use cases. Imagine a customer care service in a publicly accessible web site (bank, insurance company, utilities, etc), where an end-user clicks on a click to call button in an anonymous way. An agent of the contact centre would like to receive information about the IP address (to infer location) of the user, which is the language of the browser, where it this was the first time to visit the site, which is the type of device that he is using, etc. Some examples on this context information usage are available at the webinars and white papers about use cases of WebRTC you can access from
quobis.com
Context based communications is thought to be a killer feature in the next generation of communication tools, that will enable a new way to get revenues for the communication service providers and the way to improve the customer experience. This has a lot of vertical opportunities in areas that range from e-health and public safety to entertainment and online gaming. If you want to learn more about contextual communication, we recommend to follow
@disruptivedean
and
@martingeddes
or read this post:
http://disruptivewireless.blogspot.com.es/2015/03/the-roadmap-to-contextual.html
Sippo and Contextual Information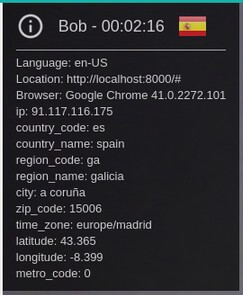 At the MWC Barcelona in 2015 we were showcasing the version 2.2 of Sippo WebRTC Application Controller and the Sippo WebRTC applications. This version includes an advanced tool to expose the context information to the participants. One of the demo showed how a contact center agent connected to to Sippo Web Collaborator can received anonymous calls from a web visitor how was using Sippo Click to Call embedded in the public site of a bank. The agent doesn't know information about the user, as this one is calling before logging in the site, but data like IP address, default language, URL referral, type of device and browser, etc. can be accessible. This information can help the contact center ACD to route the call to the best agent and can help this to adapt the speech to the profile of end customer. The above information is able to be reported by the Sippo Web Collaborator client, receiving a call from a Sippo Click To Call WebRTC client:
Language: browser language or OS language if not specific browser language is configured.
Location: URL where the call is issued, the webpage that originates the call.
Browser: Browser information: manufacturer and version.
IP: External IP of the originator, the public IP, even when the originator is behind a NAT.
GeoLocation:

Country code / Country name: International country code.
Region code / Region name: Identifier of the state or national region.
City.
ZIP code.
TIme Zone.
Longitude/latitude Geographical coordinates, to being used to point a map.