The concept of co-browsing refers to a series of technologies and solutions that allow a joint navigation between two people, typically a client and an agent of a contact center.
Behind co-browsing there are several possibilities of implementation, which will usually depend on factors such as the type of device being used and how the communication session starts (who is the one that leads the screen sharing initiative).
The concept is abstract in terms of the multimedia capabilities needed to be implemented, which can range from a simple screen sharing (that can be managed by both the client and the agent) to the agent to take complete control (mouse and keyboard) of the user's device.
The way collaboration is implemented, together with the type of device, will force the customer to install anything or not, that is the ideal situation, especially in sporadic use environments. Sometimes this will not be possible and the customer will have to install an application or extension before starting the session.
The following image shows different potential co-browsing mechanisms that Quobis supports, whose implementation complexity is increasing.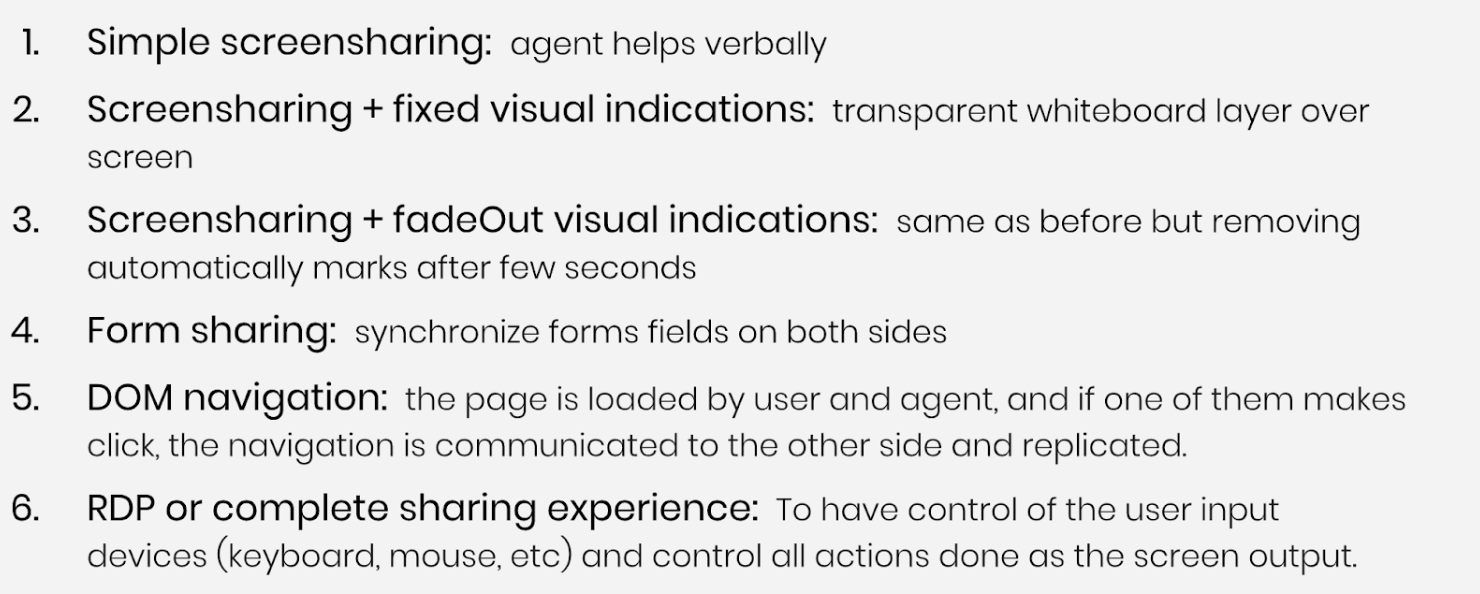 WebRTC is the right technology to implement this feature, as in some browsers is not needed to install anything and others only require a plugin/extension. This not cover to gain control of the mouse/keyboard of the remote participant but with data channels it's possible to share the position of the mouse. A possibility is to make the customer to share the screen while is the agent the one who shares the position of the mouse, making easier to navigate together through a website. So, we can talk about browsing assistance, where the agent can help the customer to reach the right site.

This figure shows a typical customer journey where co-browsing is being used.

Sippo hub provides prebuilt use cases and modules and an open API/SDK to support or build tools like co-browsing (document review, browsing assistance, etc.).
About Sippo hub
Sippo hub is an enterprise-grade server that enables companies with customer-care applications based on multimedia real time communications to defeat the challenges of digital transformation while keeping the existing call center infrastructure.