by iago.soto | RCS is an initiative of the GSM Association (GSMA) based on the IP Multimedia Subsystem (IMS) to help network operators to make services interoperable. RCS refers to Rich Communications Services and its brand is joyn.
RCS bris new messaging services that were not available on traditional IMS networks, like instant messaging, real presence, live video and file sharing across different devices and telcos. While VoLTE is related to access (see post "WebRTC and VoLTE"), RCS is pure application, so can be identified as part of the same segment as WebRTC.
RCS depends on your device and telco provider, because is not available in all the countries. Telcos identified RCS as the best way to compete with OTT players like Whatsapp or Viber, but the adoption was quite poor for the moment, because users don't see a relevant advantage to OTT.
GSMA states that 32 countries and 87 operators are already supporting or will do in 2015, but the real adoption seems to be quite poor for the moment.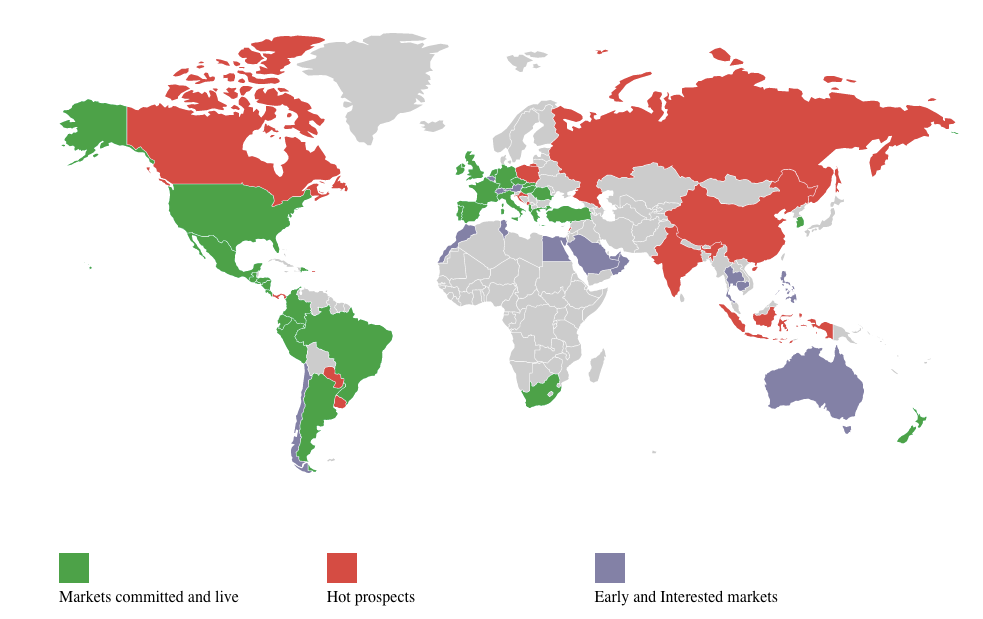 While WebRTC will be adopted by developers, internet companies and OTT players, large and tier-1 telcos seem to be exploring the potential of RCS as the technology to make collaboration a reality. In this post we'll compare both technologies as they are application-focused in the same market (unified communications and collaboration) and explore the possibilities for telcos to support both.
COMPARING RCS TO WEBRTC
Three points are key to compare these application-layer technologies.
WebRTC does not define the signalling mechanism, while standards are quite open and lots of different implementations (including some opensource) are available. RCS implementations are quite closed instead, as they depend on a specific implementation by the telco that needs to have an IMS core and a specific RCS implementation. That means a high investment by comparison with WebRTC.
While WebRTC works in any device that can run a browser (tablets, PCs, etc) or even smartphones with native applications, RCS is only supported on smartphones, some times natively in the devices or accessible from application stores.In iOS devices, WebRTC is not supported on browsers, so you need to install native or hybrid applications to have a similar functionality. Despite this, we can say that WebRTC works in more devices than RCS as you can install WebRTC-enabled browsers in almost all the devices, at no cost.
WebRTC makes possible to build lots of user scenarios by comparison with RCS but telcos has major control over RCS services, so the quality of experience perceived by the user could be better. Telcos can control the bandwidth available and offer a better service for RCS compared to a pure internet service like WebRTC.
RCS AND WEBRTC WORKING TOGETHER
While WebRTC is designed to work on web browsers with an impressive flexibility in terms of use cases that can be implemented, some drawbacks make IMS-based RCS more acceptable and a good complement to the WebRTC offer. This is the reason why 3GPP designed standard architectures for both solutions and some gateway vendors support both technologies.

3GPP: Standard IMS architecture for WebRTC.
At Quobis we understand that RCS is just a use case that can be emulated by WebRTC. Smartphone Native or hybrid application are a reality with WebRTC and the type of features that RCS is providing (IM, video, etc) are part of the traditional WebRTC capabilities. The two concerns around WebRTC on smartphones are closed to be solved:
Access to the agenda or contact list, possible using native applications, to build communications tools accessing to the existing contact lists.

Access to the notification engine, that is already possible from native applications and soon is going to be available from browsers. This makes possible to have a WebRTC service closed (not open in the browser) to receive a notification (i.e an incoming call)
Depending on gateway capacities it's possible to support both technologies including also interoperability (sharing presence, instant messaging, etc between WebRTC services and RCS). WebRTC can be the enabler to support ad-hoc value-added services like creating a telco-based over-the-top voice service, to integrate voice/data into customer's web experiences and /or involved the developers in the telco market.
RECENT MOVEMENTS OF THE INDUSTRY
On September 3th0, 2015 Google announced the acquisition of Jibe Mobile. This cloud messaging company has a RCS-based core platform that also supported WebRTC and was used by different tier-1 telcos worldwide. This seems to be part of the strategy of Google to introduce RCS to the Android OS devices and could be a real disruption in a traditional telco-based technology as RCS.
In terms of the Google's Android RCS software engineer, Google wants to promote RCS and build an ecosystem of developers and applications. Meanwhile, well-known analysts believe that Google is interested on building an alternative to iMessage or even Facetime.