Google SIP Link, the alternative to Direct Routing for Google Workspace users
Google SIP Link, we can say that it is the equivalent of Microsoft Direct Routing for the connection with the clients' telecom operators, in the case of using Google Voice.
To do this, Session Border Controllers such as Oracle, Ribbon and Audiocodes have certified their SBCs and allow the connection of the corporate voice infrastructure (both carriers and other PBXs in the network) with Google telephony users.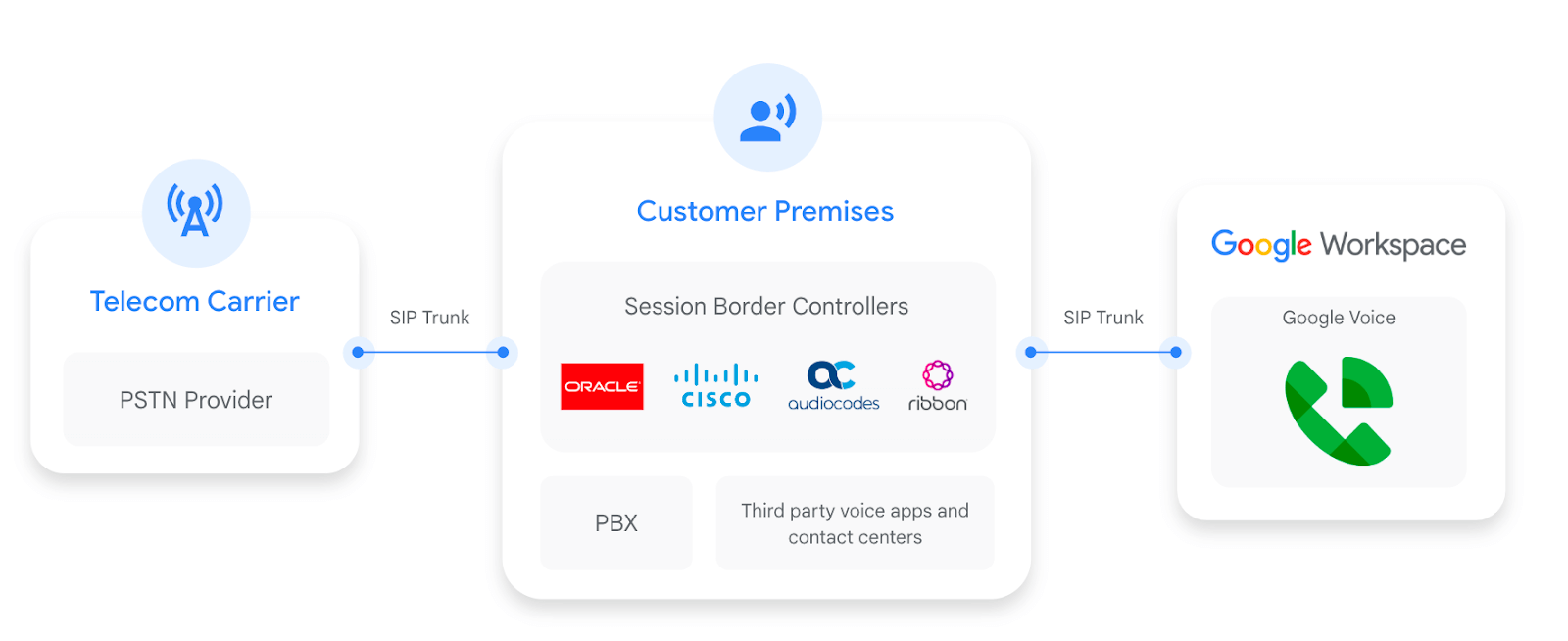 The Google Voice SIP link connects to the SBC over a TLS connection for signaling traffic. Signaling traffic is encrypted using DTLS or SDES. In the case of Oracle and Ribbon (these in the case of e-SBCs) they only support SDES.
SIP Link accepts TLS certificates only from a limited number of Certificate Authorities (CAs):
DigiCert
Entrust DataCard
GlobalSign
GoDaddy
Sectigo
Unlike other UCaaS platforms, wildcard certificates are not supported. TLS certificates must contain the fully qualified domain name (FQDN) of the SBC as the common name, be 2048 bits in size, and use RSA or ECDSA encryption.
Quobis can help you get the most suitable certificate for this service.
The following table details the ports to use to allow the traffic on firewalls:
Direction

IP origen

Puerto origen

IP destino y puerto

Protocolo

Desde el SBC a Google

IP del SBC

Puerto del SBC

siplink.telephony.goog puerto: 5672

TLS

Desde el SBC a Google

IP del SBC

Puerto del SBC

74.125.39.0/24




puertos 19302-19308

DTLS/SDES

Google al SBC

siplink.telephony.goog

5672

IP del SBC




puerto del SBC

TLS

Google al SBC

74.125.39.0/24

19302-19308

IP del SBC




puerto del SBC

DTLS/SDES
Quobis is an expert company in integrations with SIP networks, having participated in the integration of more than 60 vendors of UCaaS solutions, softswitches and PBXs with SBCs and customer voice network elements. Quobis can be the best ally to guarantee the success of proofs of concept and first implementations of Google Voice in those scenarios where integration with operator networks and pre-existing environments in corporate networks is necessary.