Quobis has announced the new portfolio for telcos and enterprises at the Mobile World Congress of Barcelona. For enterprises this includes two different solutions: 
Sippo collaborator
 and 
Sippo hub
. More information in the docs attached.
Sippo collaborator defined as an enterprise-grade multi-device unified communication suite fully-connected with existing customer PBXs and call center platforms. Sippo collaborator provides a complete set of advance features like video conferencing, call recording and integration of messaging and presence with different vendor platforms. This is the natural evolution of former Sippo Web Collaborator, now running in different platforms including native apps for mobiles, and focused on integration and orchestration with PBXs like Cisco CUCM of Skype for business.  The goal is to make internal communications (among employees) more flexible (supporting all devices, networks and with a complete set of multimedia capabilities).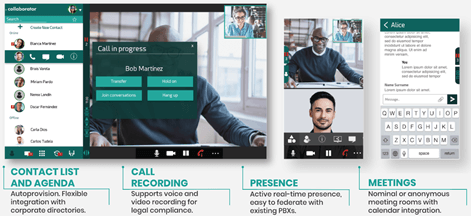 ​
Sippo hub
 as an enterprise-grade server that enables companies with customer-care applications based on multimedia real time communications. The goal is to defeat the challenges of digital transformation while keeping the existing call center infrastructure.  Sippo hub provides prebuild use cases and modules and an open API/SDK to support/build tools like video ID verification, video evaluation, document review, among others.

(examples of prebuilt use cases) This is a smart combination of different former solutions, like the Sippo WAC (that hosted the applications and SDK to build application) and Sippo Click to Call and Sippo Web Collaborator, as applications for customers and agents. Now we have a wrapped solutions that includes everything needed for the deployment, including pre-built use cases and a complete set of SDKs to build new ones really fast.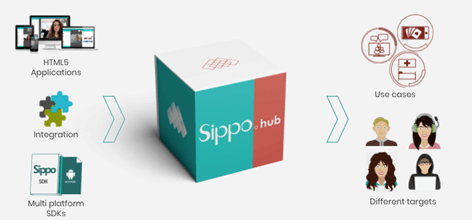 This is the right tool to accommodate the existing contact center infrastructure to support video and collaboration (screensharing, cobrowsing, etc), with no need to change anything.