The usage of web applications in increasing and WebRTC is called to be a game-changing technology as browser are able to support real-time communications. Microsoft Skype, Mozilla Firefox and Google Hangout are using this to create new services. Quobis, as one of the leaders in the standardization of the technology and the company that is behind of some the most relevant use cases, will be showcasing how WebRTC can be used by telcos, service providers and enterprises to improve user experience and generate new revenue streams.
QUOBIS AT THE MWC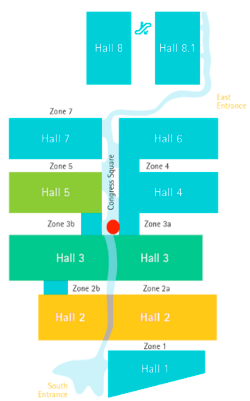 Quobis' booth (#CS60, booth 2, Spanish Pavilion) will showcase "Sippo WebRTC Application Controller" to service providers and network equipment vendors, showing them how to introduce new value-added WebRTC services to their residential and corporate customers, hiding the complexity behind the different implementation of the standards by web browsers and gateway vendors and providing a complete set of APIs to manage AAA, user provisioning, contact management, policy control and other features.
OPEN AND NETWORKING EVENTS
Monday 8.30 PM: Running at MWC. Barceloneta. Registration needed (ask for your discount code). Register here: http://www.eventbrite.es/e/mwc-running-tour-barcelona-tickets-19848824368 Tuesday 11.00 AM Press conference: Extending communication services to the web. Conference room CS60. Meeting point 10.55 AM at Quobis booth. Focus on Press delegates. Registration needed (see below) Tuesday 6.00 PM: WebRTC meetup. Poblenou campus Auditorium. Bus available upon request from Fira at 5PM. Register here: http://www.meetup.com/WebRTCBarcelona/ Wednesday 8.00 PM: Cocktails & friends. Collage Cocktail bar. Crr/ Consellers 4. Free event. Register here: https://www.eventbrite.es/e/cocktails-friends-quobis-mwc-registration-20843857539
VISITING THE BOOTH
A visit to the Quobis booth is recommended for press delegate. Three demos with different use cases of WebRTC will be available:
DEMO 1: Improving customer care experience
Using the example of a person that wants to arrange some details for his/her wedding, we will use Sippo Click to Call as a customer care tool. Here we'll learn how easy is to integrate web communication tools in existing web pages and how Sippo Web Collaborator can be used as an agent tool. Contextual information is really helpful. We'll use this twice (first to know which is the language of the anonymous caller, second how we can retrieve the information from the previous call). Advanced collaboration tools will be showed here like form sharing, whiteboard, and PDF sharing. Agent notification and presence will play also a relevant role in this demo.
DEMO 2: Validation of new customers
Imagine you want to open a bank account skipping the visit to the office. Using WebRTC we'll show how a user accessing a site from the mobile device can send personal information (including a picture of the national ID card), make a video call with a agent and get the ID validated after call is recorded. We'll show also the call forking feature, that makes possible to upgrade traditional voice calls (using the existing call center platform) info collaboration and video. Finally we'll use meetings feature to arrange a meeting with the new personal agent.
DEMO 3: Boosting new ways to communicate
Using the example of a group of friends and a football match on TV we will showcase how it's really easy to use WebRTC to give access to a multiconference room to different users from different devices while sharing a streaming of a video. A group chat service will be available, together with push notifications to notify users on incoming messages of the group of friends. The demo will end with an introduction of the social TV concept using WebRTC.
ABOUT QUOBIS
Quobis is a leading European company in the delivery of carrier-class unified communication solutions with a special focus on security, interoperability and identity management for service providers and enterprises. Quobis is headquartered in Vigo, Spain with partners throughout the world. Quobis is well-known as one of the leaders in the deployment of WebRTC technology after being involved in the industry-firsts implementations in more than 40 countries, including most of the top 20 telcos worldwide, using Sippo WebRTC Application Controllers and its applications to extend services to the web.
REQUEST A MEETING OR INTERVIEW AT THE MWC
Yudani Riobó is Head of Global Alliances of Quobis. She will be available to introduce the activities of the company, demos of the solutions that Quobis is showcasing and providing additional information to all the press delegates. Please, book a time slot in advance writing to yudani.riobo(at)quobis.com or dialing +34 986 911 644.
ADDITIONAL INFORMATION
Press releases, product images, company images, Video with demos, brochures, data sheets, white papers, executive biographies and photos and additional links are available at http://press.quobis.com