Quobis Collaborator is the best-choice unified communications tool for companies that have employees who work from home.
Virtual Desktop Infrastructure advantages for companies that have employees working from home:
The global outbreak of COVID has changed the way we conduct business. The limitations on transportation, social distancing and restrictions on workplaces are changing the way we work.
This situation opens up lots of opportunities for those companies that can contribute to business solutions for the new reality. It's also a good chance for companies that were ready to adapt on the fly and maintain the level of productivity when teleworking.
For those businesses with a longstanding culture of working as a "traditional" office, there is a playbook they can follow to integrate teleworking into their overall strategy based on Virtual Desktop Infrastructure. This uses to be the best option to skip device limitations, network access policies, maintaining security and boosting productivity
VDI has some advantages for rapid deployments. For instance, it reduces the amount of bandwidth being consumed and allows the application to run within the secure environment of the business network. This a valid approach for those scenarios where the company has not a real control of the user device.
VDI has been also adopted thanks to its security features. It is not the time to open up servers to outside users by relaxing firewall rules. All protocols followed by a company for on-site users should be put in place in the home office as well. VDI makes this easier thanks to relying on the corporate systems.
Employers should reinforce that an appropriate space should be established and that the employees have the right tools. This is the case of access to instant messaging and internal communication tools. Unfortunately, the access to the camera and microphone from virtual desktops was not possible until 2019.
Support of browser redirection on VDI environments:
Citrix was the first one to implement, in early 2019, Browser Content Redirection (BCR), in order to support web-based applications that require WebRTC. BCR redirects the entire viewport of the hosted browser to the endpoint. Citrix is providing support also for WebRTC-based installed applications based on Electron.
VMware Horizon 7.10 has now a similar approach to Citrix using VMware Browser Redirection, supporting WebRTC applications running in Chrome browser with the VMware Horizon Browser Redirection extension only running on Windows clients.
Quobis certifies its products running on VDI
Quobis Collaborator has passed a fully feature test over Citrix and VMware Horizon, enabling Unified communications tools running on virtual desktops.
Quobis collaborator is an enterprise-grade multi-device unified communication client for corporate employees or contact centre agents. Quobis have designed Quobis Collaborator to be the unique UC client that any organization needs to manage all their internal or external communications, careless of media (voice, video or text), platform (web, pc, smart TVs, tablets, smartphones, analogue endpoints, intercoms, cars…) or the number of users (one-to-one, one-to-many, many-to-many).
This represents a huge opportunity for Contact Centres, BPO and other major industries that are adopting teleworking reducing the capital investment to keep productivity while maintaining corporate policies.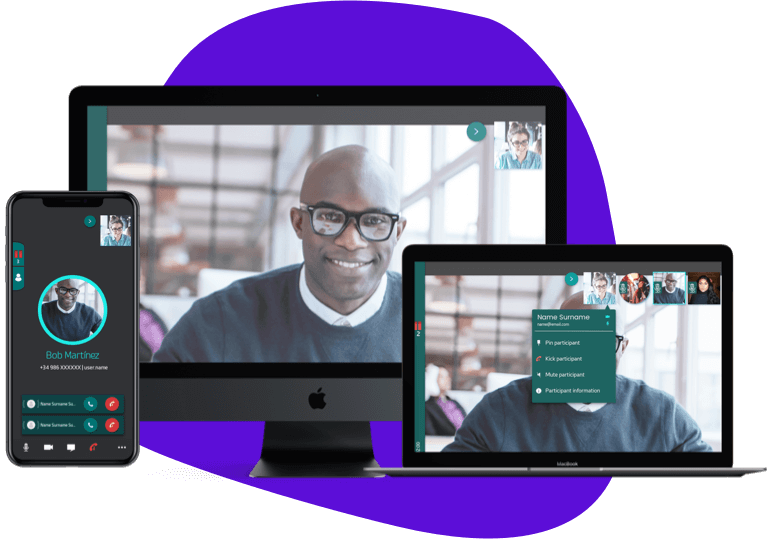 All Communications running on virtual desktops
Employees and contact center agents might use virtual desktops running in dump devices working from home, as it reduces expenses and minimizes the possibility to suffer attacks and any security threat.
WebRTC can run as an endpoint in these devices, fully connected to the existing PBX and numbering. No need to add a deskphone.
Browsers support voice & video access (camera & mic)in VDI like Citrix or VMware Horizon.
It takes advantages of all the collaboration tools of WebRTC, like video conferencing, screen sharing or messaging.
We will get back to you immediately