SiGO: Innovative solutions for pre-5G communications had the objective of tackle new opportunities arising in different fields due to the evolution of mobile communication technologies to 5G. Quobis collaborated with DEKRA, Keysight and ISOIN to design and implement a set of systems and tools to get the objective of the project.
The main results obtained at the end of the project were:
A network emulator for pre-5G technologies

Networks performance solutions for M2M and automotive environments

Simulation tools for IoT and HetNets

A WebRTC architecture for IMS networks

Quobis has implemented and integrated WebRTC services into an IMS network and developed WebRTC applications that allowed the system validation. As a demonstrator, the WebRTC services run over the pre-5G network emulator providing a complete set of KPIs to analyse the QoS of the multimedia services under pre-5G conditions.
After this project, Quobis continues to work on multimedia solutions for 5G environments in the project
5GTANGO.
This project
enables the flexible programmability of 5G networks with an NFV-enabled SDK; a Store platform with advanced validation and verification mechanisms for VNFs/Network Services qualification; and, a modular Service Platform with an innovative orchestrator in order to bridge the gap between business needs and network operational management systems. In the coming months Quobis will have a first version of the pilot that leads.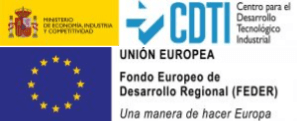 Looking for a R&D Partner?
Leading companies have already trusted Quobis as a partner for their R&D projects. Let us know your project! Fill the form, and one of our Innovation Experts will reach you asap.