Last November 29th and 30th Quobis opened the new headquarters with an event called "Quobis Festival". Two days, in which the office was full of traditional entertainment activities from Galician festivals.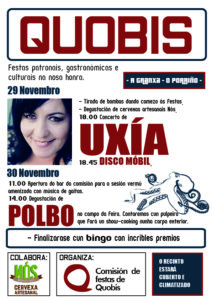 by Lis Garcia
| As every Galician town festivity it had all activities that you can find in this parties: fireworks, live music, "Vermú" time, traditional food, traditional music and a bingo with some prizes, as you can see in the poster. This was a similar one to the ones you glance at town's squares or bars. The event started at 17.30 pm with some fireworks to announce the beginning of the activities, which were shouted in the Quobis surroundings and doing noise. This welcomed all the attendees to go into the office to join the party, which started with a craft beer experience. A short workshop about how 
they do the beer.
 This was thanks to "
NÓS craft beer
" collaboration, some guys that do a incredible tasty beer not so far from our quarters. The concert was sung by one of the main ambassadors of Galician music,
Uxía Senlle
, an unbeatable singer who sings traditional music but with a renewed and personal treatment. She performed accompanied by
Sergio Tannus
, a talent brazilian musician who plays so many instruments, in this occasion he played two different traditional guitars and a tambourine. They inaugurated our new stage and our Walk of Fame with a commemorative plate and a signature of each of them.  A great way to start the Quobis Festival !!!! :)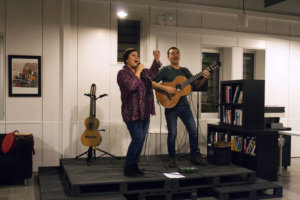 After the greatest start, the 30th, the patron saint's followed with a 'sesión vermú' in the Ollomol canteen at 11 am. This includes some snacks and the traditional drink vermouth, which was the starter of the big meal that is going to happens. In Galicia a Vermú is the time after Sunday mass, when the people go to the bar to have some drinks before lunch. The big Christmas lunch had the main Galician dish: Octopus !!!, a live show of a Galician "Pulpeira" who cooked like the traditional way: with a huge copper pot and served in a circle wood board with oil and bell pepper. A delicious dish complemented with Galician pie (indeed, 'empanada'), Spanish omelets, croquettes…, a full party lunch.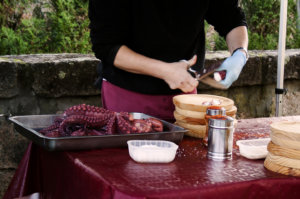 To end this two days we had a "Bingo" with three prizes: to the first line completed, two lines and complete Bingo. The lucky winners were David Vílchez (Bingo), Sergio and me ;) . In the pictures you can see the nice atmosphere, which was created by the members of the Quobis team, in these days. [unitegallery patron_saints]
We will get back to you immediately