by Jorge Cabaleiro | Since its inception in 2011, WebRTC had the potential of being a disruptive technology for the contact center world (you can check this
blog post
about traditional WebRTC markets if you want to learn more about that). The technology opens up a whole new way to communicate with customer by bringing contact centers the possibility of integrating voice, video and collaboration into any mobile and desktop computer by using the web browser. Back in the day technology adoption have been slow due to lack of standards, but nowadays, with major browsers offering WebRTC support (Safari being the last to jump aboard on September 2017) and several mainstream apps making use of the technology (I.e. Google Hangouts, Facebook Messenger, Discord…) WebRTC is estable and ready for massive market adoption.
WebRTC introduces several benefits to the contact center environment; the most obvious is improved customer experience. Customers can call directly from a website, no need to switch to the phone if they are using a desktop computer and, because the contact center knows from which specific website the call was generated there is no need for IVR making the whole journey smoother.
Besides making a better customer experience, WebRTC reports benefits to the contact center in terms of cost reduction. The cost reduction comes from two sources. First, faster resolution times, the agent has access to contextual information about the customer which translates in fewer questions to assess the initial situation. Also, agent and customer can start a screen sharing session making it faster and easier to guide through websites. Another tool that boosts efficiency is video, nonverbal communication represents more than half of all communication;  being able to see facial expressions, gestures and posture gives the agent the capability to better understand the customer. The second source of cost reduction is fewer incoming toll free calls, these calls cost around 0,03€/minute which is not a high number, but multiplied by the total of inbound calls it cas easily add up to to the millions. Reducing the amount of these toll-free calls can quickly increase savings.
In the next chart the potential cost savings are analyzed. Premises are that a 25% of the calls to the contact will be performed via WebRTC, efficiency gains produce an AHT (agent handling time) reduction of a 7% and average agent salary is 18.000€
.

New use cases: Field support
In the last few years Augmented Reality has experimented exponential growth and adoption so new use cases have been developed in a variety of verticals. In the case of WebRTC augmented reality capabilities have been added to the technology in order to create what can be called "remote field support". Augmented reality brings the possibility of adding drawings, instructions and virtual models to a real time video. This allows an agent to guide anyone through fixing something in a "see what I see" fashion.
This use case is suitable for customer care in case of failure or problems with an appliance. For instance when a customer calls about an issue with a device the agent can try and guide the customer through fixing it if possible; worst case scenario when the technician is deployed there is already visual knowledge about the situation speeding resolution times.
For an enterprise sending an  on site technician represents a huge cost, often times the customer would be able to solve an issue if properly guided. This allows to send technicians only to critical situations that truly require their attention.
Taking as a premise that only 2% of jobs that would require a technician are solved remotely this would represent savings as represented in the next chart (considering cost of technician 100€).

Sippo hub
As explained, contact centers can greatly benefit of higher customer satisfaction and increased savings by complementing the traditional voice & chat offer with WebRTC. Quobis offers Sippo hub, an enterprise-grade server that enables contact centers to add extended capabilities beyond traditional voice. Contact centers can provide a whole new range of services and explore new use cases to monetize while improving the customer experience.
Sippo hub is a customized solution fully compatible with both commercial and open source call center solutions. Integrate it with the company assets to fully empower your employees. Visit our
website
or write to info@quobis.com for more information.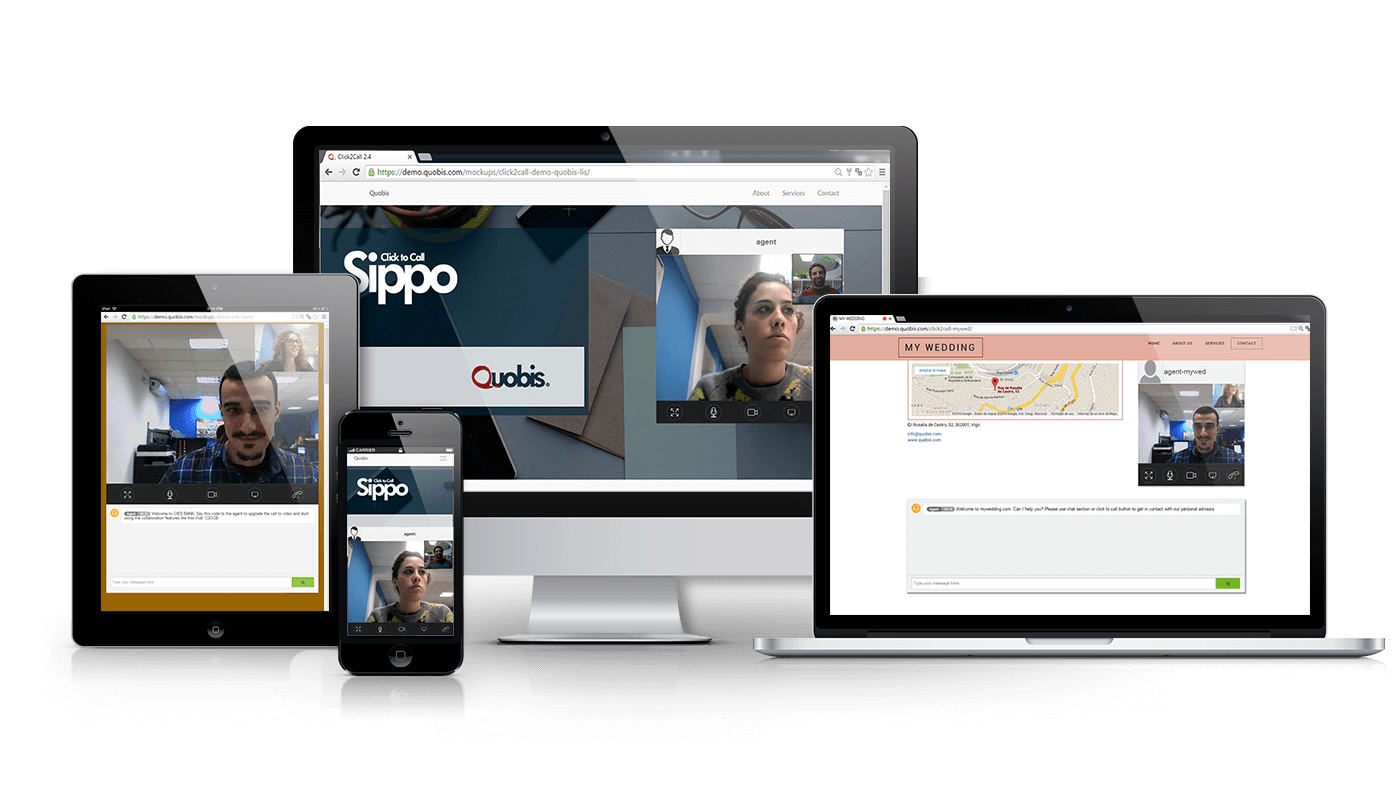 We will get back to you immediately