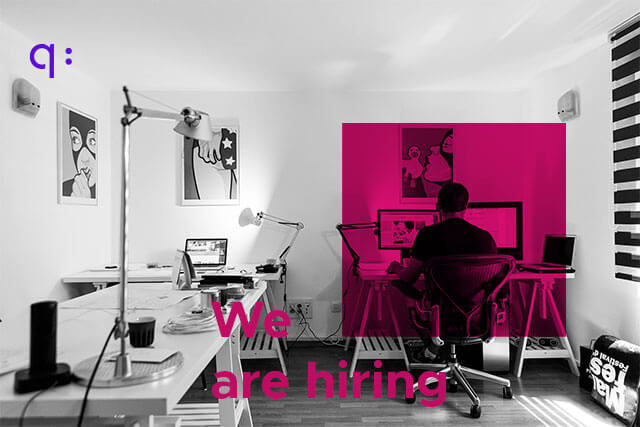 Here's who we have in mind
We are looking for a senior backend developer to evolve our communication solution in time based on WebRTC technology, which includes both the backend and signalling part as well as own libraries for third parties and client applications that consume them.
We are looking for someone with a high capacity for teamwork and experience developing modular applications, which allows us to continue adapting our product to the needs of different clients from the telco sector, contact center and large companies.
Degree in telecommunications engineering, computer science or similar
Experience in developing server applications on GNU / Linux operating systems
Experience in Javascript and Node.js is desirable, but not mandatory. That's fine if you have experience with other backend languages
Real experience with MongoDB databases in production environments
Experience with TDD, DDD, knowledge of design patterns and clean architecture
Experience working with agile methodologies and continuous integration.
Knowledge of GIT and continuous integration
Ability to work in a team under SCRUM methodology
Microservices experience
Experience with Kubernetes and cloud platforms (mainly AWS)
Experience working with real-time audio and video technologies (VoIP, SIP, WebRTC, XMPP, etc.)
What you will find in Quobis?
The Quobis development team is made up of a multidisciplinary team of 20 developers.
How we interact?
Communication is key for us. We like to work as a team and contribute in
decision making.
Techniques such as TDD or "Pair Programming" are part of the team's day-to-day life.
We use Jira and other Atlassian products for product tracking and management for bugs, and Gitlab for repository management and continuous integration.
How we code?
Our architecture is based on Node.js microservices.
We emphasize the quality of our code through good practices.
Concepts like SOLID, DDD or design patterns are used by the team.
How we improve?
We attach great importance to continuous learning and improving our capabilities. Every week we reserve time for this purpose.
We have our own technical reading club and we carry out multiple trainings internal and external, as well as attendance at events and conferences
Salary range between € 25,000 – € 35,000 gross per year, according to experience.
Annual bonus according to company profits.
Possibility of 100% remote work.
Flexible schedule, with 40 hours a week from Monday to Friday (Friday afternoons free all year) and intensive day of 35h a week during July and August.
Large budget for training, lectures and books.
Subscriptions to training platforms and access to technical bibliography.
Fresh fruit, coffee and snacks in the office.
Quobis leads the development of WebRTC technology in Europe. Our technology is part of the central network of multiple telecommunications operators around the world. Quobis maintains intense R&D activity through international projects related to 5G technologies together with the main companies in the sector. Our solutions have applications in areas such as retail, banking and telecommunications, among other industries.
We are always open to meeting talented people, do not hesitate to send your self-application.