Call identification and banking industry in Spain
As of today, in Spain there is no legislation around call verification and identification, besides, operators are legally bound to terminate all voice traffic they receive. This legal framework creates a scenario of legal helplessness, not only for the users but also for the banks. Spanish jurisprudence has been clear in various lawsuits, the bank is liable in the case of voice frauds as long as the end users has acted in a diligent manner. This means that it is the bank the responsible to compensate any economic loss the client suffered in these situations. As an example, the latest court ruling around this matter was issued in May 22 of 2022 by the Courts of Leganés (Madrid, Spain), on its decision the jury condemned Banco Santander to pay over 20.000€ to a customer that was target of a Voice Spoofing fraud.
Alternatives to STIR/SHAKEN: In-app calling
In order to face the lack of a legal framework that compels operators to use protocols such as STIR/SHAKEN, banks have the alternative to go the route of developing strategies that gives them maximum control of the communication channels and its users. An excellent alternative consists in integrating calling functionalities within the banking App (in-app calling). This way, call authentication can be performed internally by the bank, providing the customers with a banking app with a secure communication channel. Those customer that do not have the bank app installed in their devices will receive a normal PSTN call, with no option of verification. This alternative means an extra guarantee of calling security for those voice communications performed between the banking institution and its customers. The voice channel is fully controlled by the bank, encrypted and most important, secure for the end user. On the other end, for the agent or banking representative, this process is fully transparent and integrated with the current telephony network, there is no need for new applications and it is possible to perform integrations with CRMs and other business apps.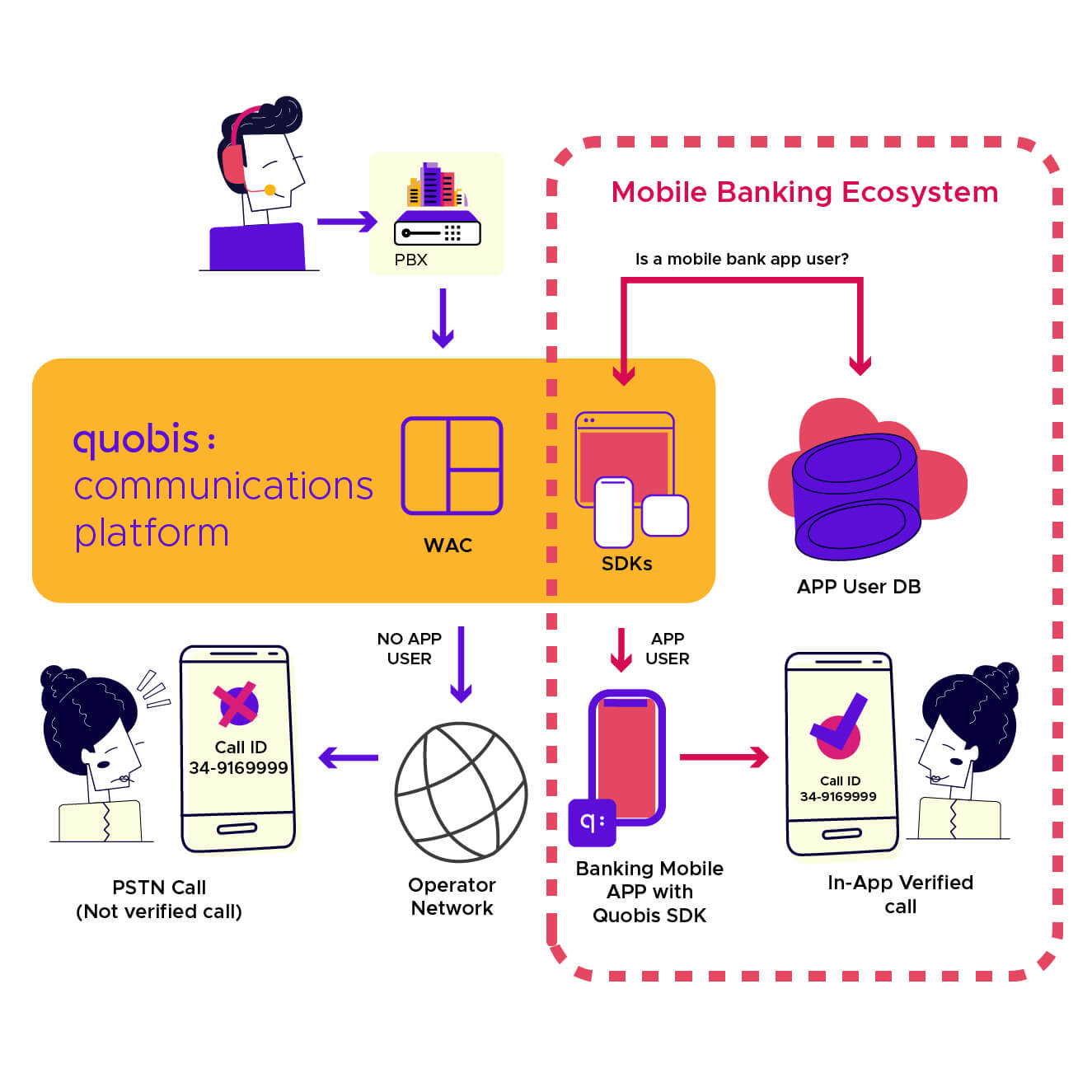 If you are interested in learning more on how to make your communications safer or you have questions about the current security alternatives or STIR/SHAKEN doubts, reach out to us at contact@quobis.com or via "talk to an expert" form in our site.